Diario Qué! is a digital publication with the most recent news, opinion articles, meetings with personalities and interesting figures, live broadcasts of events and the widest coverage of current affairs, economy, society, technology, sports, culture and leisure in Spain .
Diario Qué! from Spain dedicated an interview to develop the importance of working on the 360º digitization of companies, planning a multidisciplinary and multimedia approach so that the brand takes off in an integral way. Thank you very much Diario Qué! for presenting ourselves as the recommended Digital Marketing Agency to carry out these actions!
---
Why have the services of a Digital Marketing Agency
The sale of products and / or services through the network has grown substantially after the pandemic. E-commerce or platforms to reserve services and provide information about them were already an increasingly popular option among users.
WHY BET ON THE 360º DIGITALIZATION SERVICE OF A DIGITAL MARKETING AGENCY
Well, the truth is that the current situation has allowed this to experience an exponential leap. In this way, having good advice in digital marketing and that it is 360º, that is, as complete as possible, becomes essential if we want our business not to stagnate. With exponential growth and an increasing number of companies making the leap online, the truth is that not being on the Internet is no longer an option for a business, whatever it may be and multidisciplinary work is required in this sense.
Hence the importance of having professionals such as Agencia de Marketing Mejor Digital, a 360º agency that offers comprehensive advice. It is an agency Certified by Google, Facebook and MercadoLibre that can take care of the entire strategy to be implemented online, accompanying and guiding companies in the professionalization and digitization process, with all the necessary tools and equipment to optimize online presence, achieve differentiation from the competition and position in the market and in the minds of customers.
To do this, the first thing is to be clear about the brand identity, the importance of having a professional logo and the corporate presentation design in the event that it is not yet available and allows the signature to be identified in the online world. The second step is to define what digital marketing strategy to carry out to improve online sales and exposure on Google through paid ads. For this, the agency offers a pack of Advertising services on Google to make the landing page, for which they also do, previously, a domain study according to the objective of the company, writing, content optimization and professional management of the Advertising campaigns landing page in Google Ads.
WHAT WILL YOUR BRAND ALLOW YOU TO WORK IN THE ONLINE UNIVERSE
If you are still wondering what working your brand can bring you online, these are some of the keys that you should know.
· YOU WILL REACH A GREATER NUMBER OF POTENTIAL CUSTOMERS
Through the longer-term SEO strategy and the SEM strategy, you will be able to reach a greater number of potential clients. If you have a business and have a physical point, only people who know you will have access to you, either by your location or by recommendation of other clients. With the jump to the online universe the barriers disappear and you will be able to reach a greater number of people and have clients throughout Spain, even internationally if you consider that your business could be prepared to also provide service outside our borders. For this you only need to jump online and have a good strategy from the hand of a Digital Agency with experience behind your back.
This, undoubtedly, will translate into a higher volume of sales and will make your business continue to grow without the limitations that, nowadays, businesses that only offer their products or services through physical channels have.
· GO DIRECTLY TO YOUR TARGET AUDIENCE
Through SEO, and the choice of the correct keywords, and also the ad campaigns you will be able to make a very fine-tuned segmentation of your target audience. In this way, reaching only those people who, truly, may be interested in your product will be much easier and, therefore, that they end up as customers will also be.
· MEASURE RETURN EASILY
Measuring the return, this is the results, of an online campaign is much easier than doing the same with an offline campaign. Thanks to the different metrics and analysis programs, the agency will already give you all this information to be able to improve aspects in new campaigns, promoting others that have worked well, etc. In short, you will have very valuable information about your potential client that otherwise would have cost you much more to obtain.
👉  Read the full interview "Why have the services of a Digital Marketing Agency" in Diario Qué!: https://www.que.es/2021/11/30/servicios-agencia-marketing-digital/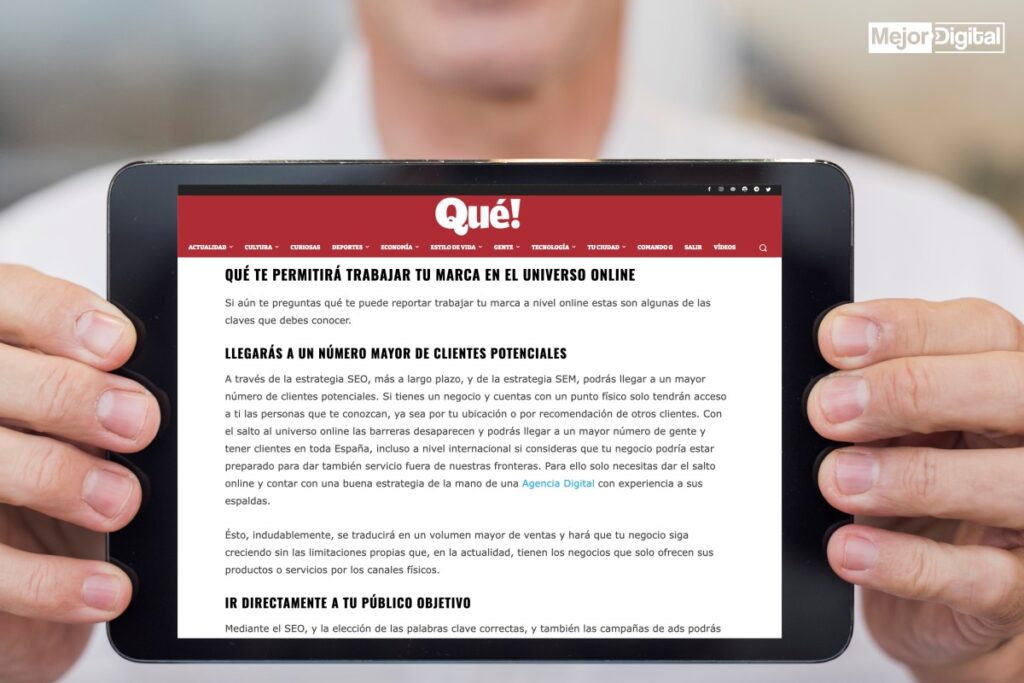 Are you looking for a Digital Marketing Agency to take your company to the next level? Let's work together!
From Better Digital Agency we are ready to guide and accompany you to carry out your Integral Digital Marketing Strategy 360º. We will give you support, monitoring and specialized technical consulting. We will carry out a complete approach to your company, establishing objectives to generate opportunities and make processes, channels for attracting and loyalty customers more efficient.
Get in touch with our team today and let's start working together!
Mejor Digital >> Marketing & Design
Agencia Mejor Digital
Follow us on Instagram
Follow us on Facebook
Watch our videos on YouTube
Get to know our projects on Behance
More on Digital Marketing