Having a Digital Marketing Strategy for pymes is an essential resource so that small and medium-sized companies can survive the fierce online competition, and can win new customers and sales.
Digital Transformation has always been, and continues to be, a challenge for pymes, but with the pandemic this became a priority. Pymes need to adapt more than ever and have an online presence to capture the attention of their target audience, seeking to make them choose their brand, that is, to be new customers.
We prepared this note by presenting in 8 steps the digital marketing actions that every pyme can incorporate into their action plan and thus increase their sales.
Step 1: Define the Digital Marketing Strategy for pymes
Before starting any digital marketing action, it is important to develop a plan defining several aspects. The idea is that you can identify and establish the foundations of your online strategy, to ensure that you are allocating your resources (such as time and money) in the right direction.
How to start designing a digital marketing strategy for pymes?
These are our recommendations:
Identify your competitive advantage. "Competitive advantage" are the characteristics or attributes that a product or brand possesses and that give it a certain superiority over its immediate competitors. To develop your marketing strategy, whether online or offline, you have to be clear about your true differential.
Detail your business model. Defining your business model is like knowing what your ADN is, how it is formed and how it can be modified.
Make the SWOT of your pyme. Once you know exactly what are the characteristics of your business model, how it is structured and what is your line of star products / services, we suggest you carry out a SWOT analysis to know:
· Weaknesses and strengths: what are the internal characteristics of your pyme?
· Threats and opportunities: what is the external situation of your pyme?
Define your buyer persona: the buyer persona is the archetype of the ideal customer for your product / service. Be clear about how it is, what its characteristics, its needs and its concerns are, how it can reach your brand, in which circles or online sites it moves, what it works on, what is its economic situation, etc. This way you can later trace your buyer journey and define your digital marketing strategy much better to target exactly who you want to reach.
Make a list of the resources you have. Being a pyme, the usual thing is to have a tight budget, so it is very important to ask yourself this question at an early stage, so that you can invest in those actions that will really have an impact on your objectives.
Step 2: Develop SEO content on your Blog
Working on SEO (Search Engine Optimization) is essential. If you still do not have a website for your pyme, it is time to think about developing it, since it will be the basis with which to develop your SEO content digital marketing strategy.
SEO is the set of onpage and offpage actions and strategies that allow a website to be positioned organically in Google search results. The first step is to identify the main words with which you want to position your website, so then you can design a strategy to achieve it.
In addition to working on all the pages of your website so that they are well optimized at the SEO level, you can go one step further and work on generating visits through your own channel in which you put a content strategy. Sounds great, but … how do you do it?
Generating a content plan based on the keywords that best satisfy the search intention of your buyer persona. Once you have them, it is time to create content to publish it on your Blog. If that content is well optimized for SEO and is relevant to your buyer persona, it is a matter of time to get your notes to reach the top positions in Google.
Step 3: Segment your database
The third step in your digital marketing strategy for pymes will be to segment your contacts. Knowing your database is key to being able to communicate with it. So working the Lead Scoring technique can help you a lot.
This technique consists of classifying the leads in your database based on how they approach your ideal client and when they are in the buyer journey.
If you are generating your database, it is the best time for you to spend time defining your own scoring system (scoring) to have an ordered database that you will know well and, therefore, you can get the most out of it. To do so, we suggest you ask yourself:
What information do I need to identify if a contact matches my buyer persona?
How is my purchase process?
What is the trigger that indicates that a contact has enough interaction with my brand?
What is the behavior of a contact who is in the decision phase?
How to classify my clients to work on them personalized loyalty actions?
How to identify "sleeping" contacts to direct engagement actions on them?
Step 4: Design your E-mail Marketing strategy
Once you know your database to the fullest, it will be the perfect time to plan a communication strategy with it through E-mail Marketing.
E-mail Marketing is a well-used tool that can help you send emails to your database with personalized content adapted to different situations, to achieve a variety of marketing objectives such as:
Maintain active contact: keeping your contacts informed, for example about news in the sector, to position yourself as a benchmark in your field. In this way, they do not perceive this channel as something 100% commercial, but also as a means with which to keep up to date.
Educate: focused on accompanying and guiding users in their purchase process. You can make an ideal accompaniment in each phase of the purchase process by providing adequate information at the most convenient time. This is what is known as lead maturation.
Build loyalty: to encourage recurrence in the purchase, spread special offers, or look for upsellings. Believe it or not, it is one of the most effective Digital Marketing techniques to make sales among the most indecisive or those who seemed to forget about your brand.
Improve user experience: to send your contacts, for example downloadable content or thank them for subscribing. You always have to think of helpful messages and clearly guide the user about the next action to take.
In this way, we can begin to implement inbound marketing techniques and try to get the user we are interested in to make certain conversions.
Step 5: Plan Online Advertising campaigns with Google Ads and Social Ads
A Digital Marketing strategy conceived as an accelerator of results for pymes is Online Advertising. Put like that, it seems like a very general way of speaking. But in the previous steps we told you that, just as you have to work with an owned media such as a Blog, you also have to resort to paid media. And one of the most effective for achieving short-term results is Online Advertising.
It is an efficient way to feed the upper part of the funnel. Once you get a series of contacts or you manage to increase the number of visits on your website, you will have a better chance of reaching a second phase. That is, after promoting content through paid means (such as Ads on Google, Instagram or Facebook), you will have the opportunity to accompany and educate the user until the moment of the final transaction, testing your segmentation strategy and of lead maturation.
Another option is to invest in transactional campaigns through traditional Online Advertising. That is, directly promote your products or services. However, from the inbound marketing methodology, this is something that we recommend once the contacts have gone through lead scoring and are in a more advanced stage of the purchase process.
Step 6: Have a professional presence on Social Media
In order to generate a community related to your target audience, it is best to have a professional presence on Social Media. In them you will be able to communicate in a much closer and direct way with your followers and potential clients, consolidating your image and brand identity.
Managing different company profiles on social media is not simple, that is why it is necessary to create a Social Media Plan, with which you will organize the different types of publications that you are going to create, with what objectives and what resources you will need.
Working on the presence of your brand in Social Media will generate a high impact on branding and will help you boost the results of the rest of the digital marketing actions that you are carrying out, which is why it is very important that it is carried out correctly, taking care of all the details: valuable content planning + graphic design + message + writing + spelling.
Step 7: Make strategic ties with influencers to boost your strategy
Once you have worked for a while on all the previous steps and you find yourself developing your marketing strategy with a certain volume of audience behind it, it is time to think about creating strategic ties, such as specific campaigns promoted by external collaborators: influencers.
Around 24% of Social Network users claim to use Instagram and Facebook to follow influencers, while others (around 23%) do so to sign up for sweepstakes. Therefore, if we combine both resources, we will probably achieve a greater impact.
We suggest you look for professionals with whom you can verify that they can provide you with great visibility and increase user interactions on your Social Networks and add traffic to your website. To achieve this, the influencer's audience has to be similar to yours or complementary.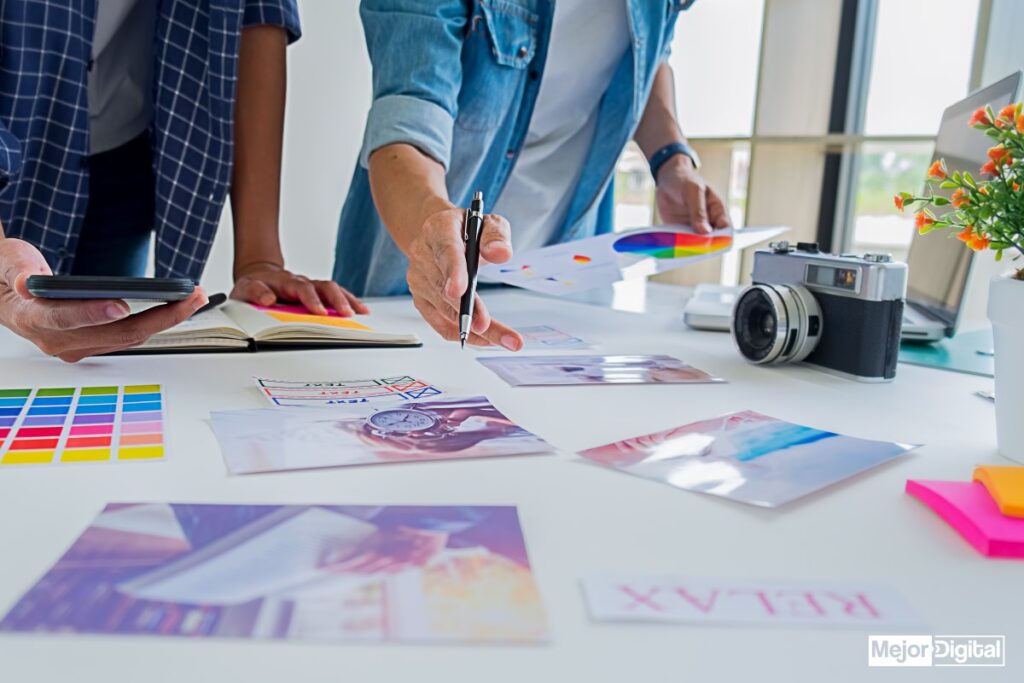 Step 8: Implement a CRM in your Digital Marketing strategy
To continue optimizing your digital marketing strategy and have your lead scoring, lead maturation, mailing and loyalty actions under control, the key is to have a CRM (Customer Relationship Management).
This tool for monitoring the process of buying leads and creating effective workflows, will help you automate the most repetitive tasks and focus on the actions to follow to meet each objective established in your strategy. You will be able to optimize the relationship you have with all the contacts in your database, recording all the information that is of interest for the implementation of your digital actions.
Conclusion:
There are many paths you can take to generate a correct Digital Marketing strategy for pymes. Remember to start by establishing well the objectives you seek to achieve with your digital marketing strategy, investigating everything you can about your buyer persona. Once you have it clear, plan actions prioritizing those that have a greater impact on the strategic line of action that you have defined.
And above all, do not be afraid to adapt these 8 steps of a Digital Marketing strategy for pymes to your needs and your resources: walk slowly but with firm steps.
Are you thinking of implementing this 8-step strategy in your pyme?
We would love to know your results, we look forward to your comments! And if you need help, do not hesitate to contact us. At Agencia Mejor Digital we have a team that will put on your brand's shirt, working comprehensively on Marketing, Advertising, Design and Communication actions. Leave your online strategy in our hands.
Get in touch with our team today and let's start working together!
Mejor Digital >> Marketing & Design
Agencia Mejor Digital
Follow us on Instagram
Follow us on Facebook
Watch our videos on YouTube
Get to know our projects on Behance
More on Digital Marketing