EXTRAConfidencial, a leading online newspaper in the Spanish media, dedicated an interview to develop the importance of Web Design adapted to the different mobile platforms, thinking of being increasingly mobile friendly to achieve an optimal user experience when browsing the site.
Thank you very much EXTRAConfidencial for introducing us as the recommended Digital Marketing Agency to carry out the development of E-commerce Platforms and Responsive Web Design!
---
Ecommerce surrenders to the importance of design adapted to mobile platforms
Only during the year 2020, the growth of ecommerce sales in Spain was 26% compared to the same period of the previous year. A situation positive enough to understand the importance of ecommerce in the day to day of many businesses. Allowing companies to sell 24 hours a day, 365 days a year. At the same time, it opens a new channel to increase sales on the Internet that complements the physical channel.
Spain has positioned itself, with figures like the previous ones, in the third country with the highest growth in e-commerce in the last year. A trend that, together with the emergence of mobile devices and the growth in the use of smartphones and tablets, has made responsive design a key element in the growth of any business. Offering the user an excellent mobile friendly experience, and thus the sales of companies are increased.
What is responsive web design?
When we refer to responsive design, we find a methodology that allows a website to change its appearance and functionality depending on the screen on which it is displayed. We spoke with Agencia Mejor Digital about this, and about the growing trend towards the diversification of mobile screens, which has made this feature key to offering our visitors a user experience that invites them to buy our products or acquire our services.
In this scenario, the role of a digital agency specialized in web design is essential. Its professionals will be in charge of answering the question of how to make an online store and make the most of the possibilities they offer us.
Why is it important to have Responsive Web Design?
User experience
One of the reasons why we must focus our efforts on adapting our website to all types of screens is related to the experience offered to the user. According to Agencia Mejor Digital, users who access a website do so with the aim of knowing the products, being interested in the services we offer or learning more about our work philosophy. In short: get to know each other.
We must provide our visitors with a scenario that allows you to fulfill all your interests from any device. Regardless of the features, the operating system or the screen size, among many other elements.
In the case of ecommerce, in recent years it has been shown how the user experience has become a key element in any sales strategy.
Adapting to the current trend
According to different studies carried out, it is currently estimated that only in Spain there are more smartphones than the population. Therefore, the average is higher than that of one terminal per head. If we look at this situation, we understand that adapting our website to this type of device is essential.
The mobile phone is no longer an instrument with which we communicate. To begin to consolidate itself as a tool with which we can carry out our weekly purchase, prepare a report or visit any website. The only requirement we need to meet is to have a stable internet connection.
Digital Marketing has been warning for years of the importance of adapting the operation of our website to our mobile phone. For Agencia Mejor Digital, offering the user the possibility of being able to find their favorite products quickly, that they can easily pay and configure their shipment will reduce the customer's waiting time. And, consequently, it will allow us to increase our volume of income.
A 360º strategy
While it is true that responsive web design is highly relevant, we cannot forget to complement it at the same time with a 360º Strategy that allows us to enjoy all its benefits.
To increase sales on the internet, it is necessary to carry out Google Advertising campaigns with exclusive offers for online purchases. Leading agencies in the sector, such as Mejor Digital, are certified as Google Partners. Therefore, they offer their clients the maximum transparency and reliability to implement all kinds of strategies with excellent results. Specializing in areas such as Google Ads, Google Analytics and Google Shopping. As well as video ads and website development. Together: an ecosystem of services that allow you to raise your customers' digital presence to a higher level. Differentiating yourself from your competition and positioning yourself above it.
As we have been able to verify, responsive design solves the classic problems that ecommerce faced at the time when the user wanted to access a type of content and experienced difficulties due to the size of their screen. Thanks to industry professionals like the Agencia Mejor Digital team, reducing the friction between traditional web design and responsive web design is easier than ever. There is only one beneficiary of this transition: the final consumer.
👉  Read the full interview "Ecommerce surrenders to the importance of design adapted to mobile platforms" in EXTRAConfidencial https://extraconfidencial.com/noticias/el-ecommerce-se-rinde-a-la-importancia-del-diseno-adaptado-a-plataformas-moviles/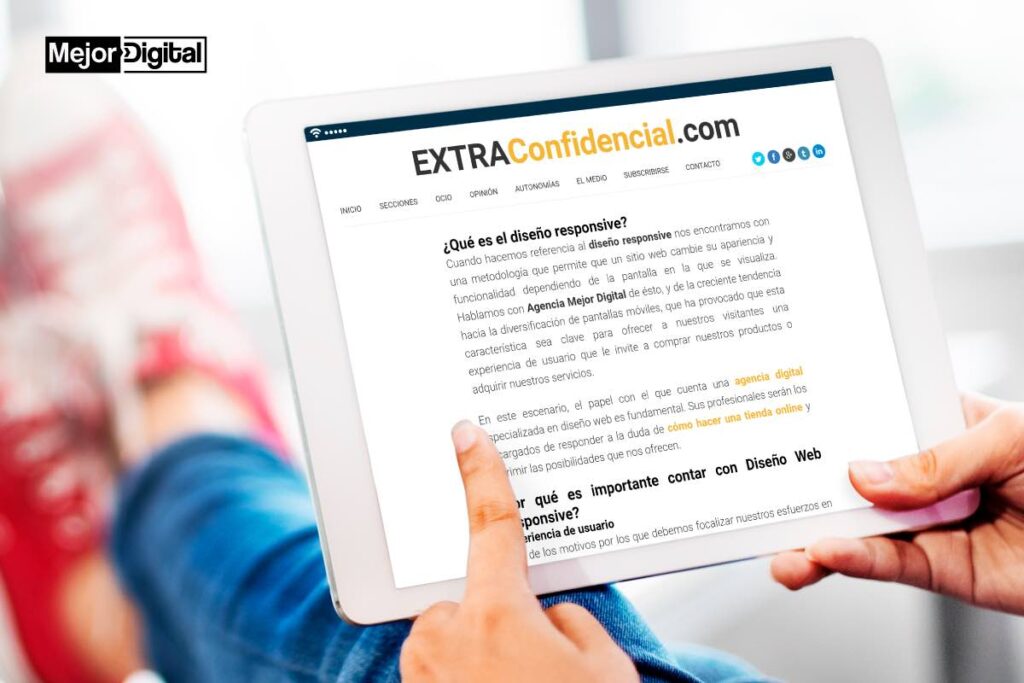 Are you looking for a Digital Marketing Agency to take your company to the next level? Let's work together!
From Better Digital Agency we are ready to guide and accompany you to carry out your Integral Digital Marketing Strategy 360º. We will give you support, monitoring and specialized technical consulting. We will carry out a complete approach to your company, establishing objectives to generate opportunities and make processes, channels for attracting and loyalty customers more efficient.
Get in touch with our team today and let's start working together!
Mejor Digital >> Marketing & Diseño
Agencia Mejor Digital
Follow us on Instagram
Follow us on Facebook
Watch our videos on YouTube 
Get to know our projects on Behance
More on Digital Marketing