What is a landing page and what is it for?
Would you like your website visitors to become your potential customers? Then you need a landing page ! In a Digital Marketing strategy must be taken into account it counts social networks, blogs, SEO positioning and also, landing pages.
A landing page -or landing page- is a page within a website, specifically designed to convert visitors into leads .
In this way, we will be able to capture those users who are interested in our product or service and obtain their e-mail for a E-Mail Marketing campaign , telephone number or any other useful contact information.
In this note we tell you all about landing pages and their importance to generate sales.
Is a landing page a home page?
Many people mistake landing pages for the home page of a website. The reality is that they are not the same, both fulfill different functions.
When we decide to create a website for our project, it is important to know which solutions best suit our needs and give the best results.
In web design and development, we must first think about and establish the objectives and needs of our project.
The concept of landing page and home page or home are very different, each one is created to give different results. However, the two are part of the same ecosystem.
Unlike websites, landing pages are called "landing pages" and are developed with a very specific purpose, such as attracting the user for a possible product sale. On the other hand, the websites offer all kinds of information, generally, from all the functional areas of the company, as well as for example institutional data, a contact section, services, etc.

Characteristics of a perfect landing page
The main differences between them are: & nbsp; the structure , the type of content and the function & nbsp; What they do, that is, how they are developed, what we put in each one and what they are used for.
How does a landing page work?
Landing pages enter the scene when a user wants to see more information on a topic, either about our products or services or a topic of interest.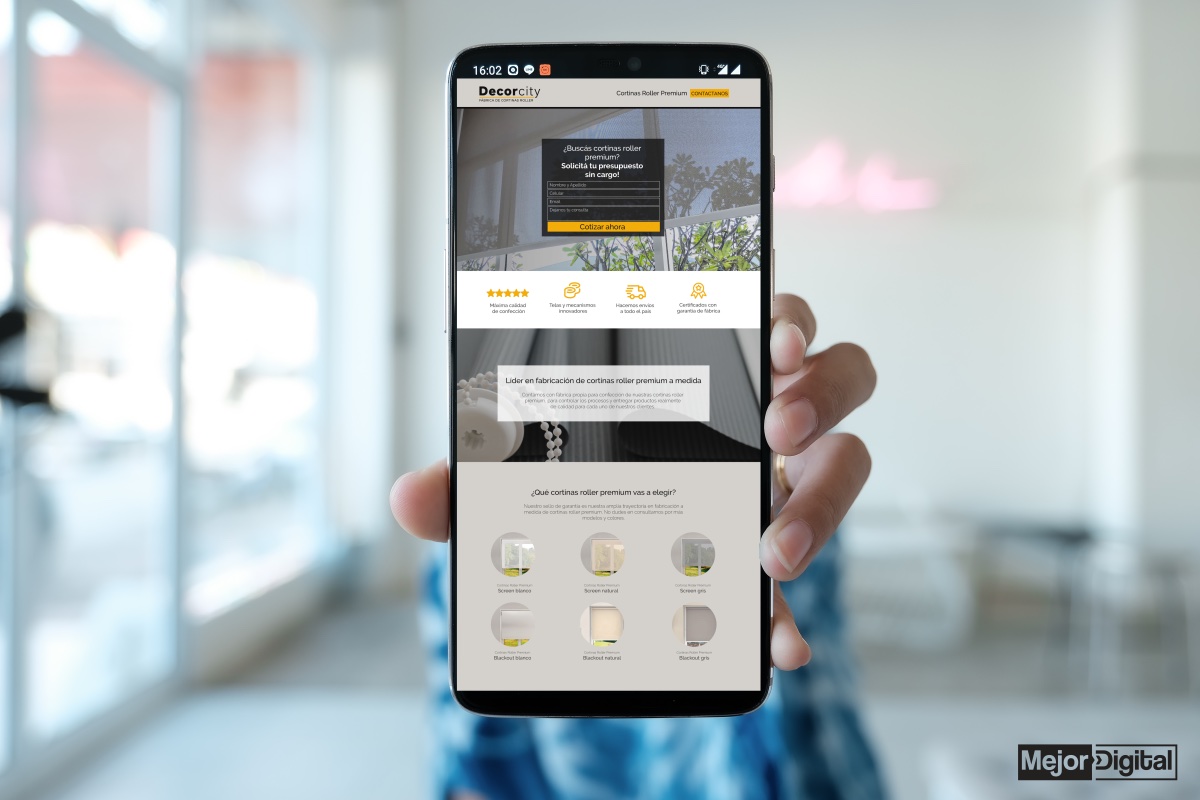 It is very useful when the user accesses a blog on a topic that interests them.
For example, search on Marketing for Entrepreneurs . After reading a post from How to sell on Instagram , at the end of the note you see a call to action – call to action – that invites you to download an editorial calendar to organize your social media posts or an ebook about Content Marketing . That button will redirect you to our landing page .
Once there, the user will have to fill in some contact information -phone number to receive WhatsApp promotions or e-mail- in exchange for the content.
Finally, you will be redirected to a thank you page with the download link or it will arrive in your email. The user became a valuable lead !
So we will be able to track the number of downloads, the number of people who subscribe to a newsletter , the number of users who reach this landing page but for some reason they do not leave their data … We will be able to measure all this and more, with tools such as Google Analytics or others.
It is the perfect opportunity to connect with our potential customers directly and personalize the message to better influence their purchase decision.
What is a lead?
When talking about landing page , the term lead is surely also mentioned. What does it mean?
This concept is used in the Inbound Marketing to refer to those users who left their data through a landing page , in exchange for content of their interest. Therefore, they became part of a company's database.
These users came to be considered potential clients of our brand. It is vital not to lose their data, keep their attention and guide them through the sales funnel to become customers.
The more quantity -and quality- of leads or prospects we get, the greater the possibilities of get new clients .
Tipos de leads que podemos encontrar según el funnel de ventas:
Lead: Es el contacto que se encuentra en el tope del embudo -Top of Funnel-. Es un contacto frío que todavía no está preparado para realizar una compra pero que está interesado en nuestra marca. Hay que realizar acciones estratégicas para hacer que el usuario avance.
Marketing Qualified Lead: Es un usuario que pertenece a nuestro público objetivo y podría llegar a ser nuestro cliente. Está en el medio del funnel, tiene una necesidad que satisfacer y debemos hacer que nos tome en cuenta como una posible solución.
Sales Qualified Lead: Este usuario ya es contacto y está en la parte final del embudo. En esta etapa hay que cerrar la venta con promociones exclusivas u algún otro incentivo.
Read more about the funnel stages in our note sale funnels .
Structure of a landing page
In Best Digital We are experts in the development of landing pages , so we are going to tell you what key elements you have to include in it to be effective and generate conversions .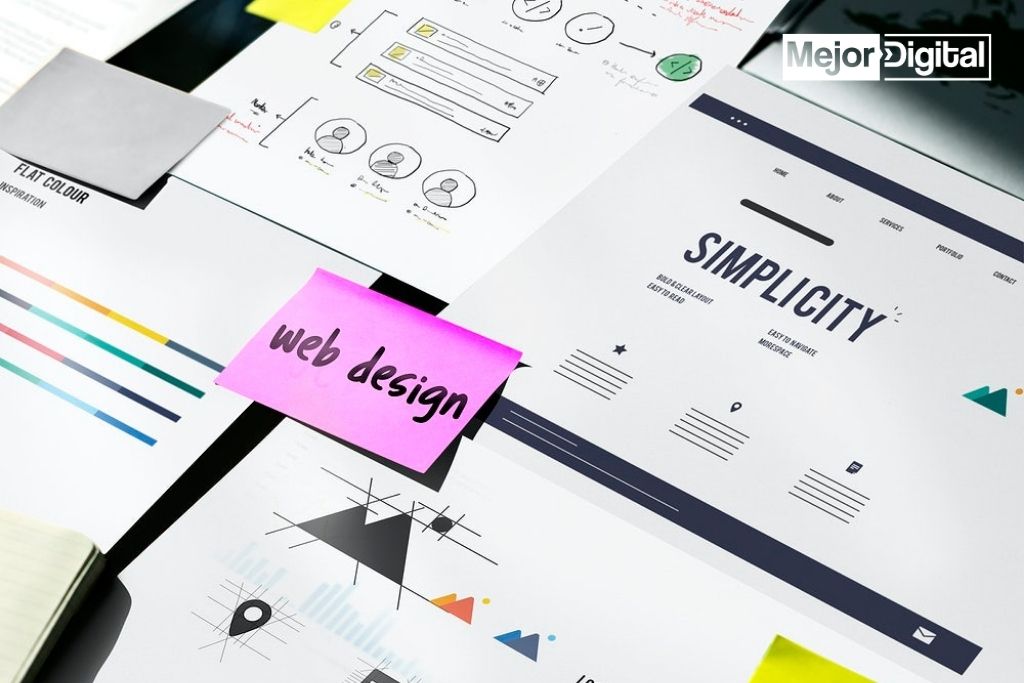 Titles
Did you know that the title and subtitles are the most viewed elements on a page? They are what we first read when entering a website.
These elements must stand out and convey, clearly and concisely, the value proposition . It must be written in a few words and specify the offer.
The text you include has to be simple, with short and direct sentences. You can include reviews and opinions of other clients.
We also suggest that you include visual content, such as real photos or videos of your product and / or service.
Contact form
In landing pages it is essential that you include a form so that the user can complete it with some valuable contact information. Thanks to this element, it will be possible to produce the exchange and make future sales.
Choosing the correct form fields is very important for conversions to occur. Ask only for the information that is useful for your brand , don't ask for more data.
Call to action
The Call to Action (CTA) is also an important element. It is what you expect the user to do on your page.
For example, if you offer services or consultancies, you can ask the user to leave their phone or e-mail and the call to action would be "Talk to one of our specialists".
The CTA serves to reinforce the value proposition and encourage the visitor to take a certain action.
Eliminate distracting elements
A landing page should not have the same elements as an institutional website. Having the menu in view or many links, as on the web, can cause the user to be distracted. The main objective is to get your attention so that you can perform the desired action (such as touching a button to call us, completing the form or chatting directly on WhatsApp with your advisors, among others). That is why we talk about a landing page being a single page (section) with a very clear and specific objective. That's the only message we have to communicate to visitors: don't beat around the bush.
Learn more about the characteristics of a perfect landing page by visiting our blog note.
Include landing pages in your ad strategy.
Landing pages are an ideal tool if we advertise with Google Ads or Facebook Ads.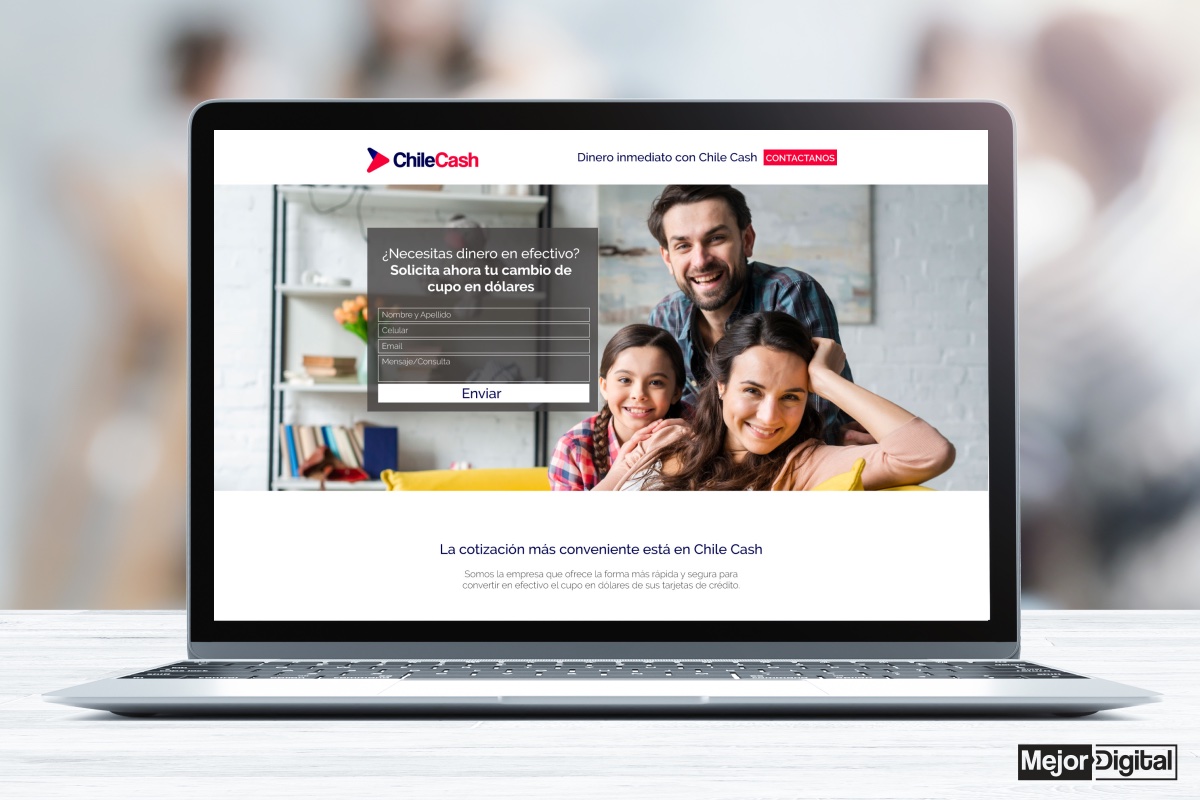 These are pages designed and developed especially as a destination site for advertising campaigns within a digital marketing plan.
When using landing pages in our ads from Google Ads , we will be able to focus on more specific objectives and obtain better results.
As we mentioned before, unlike an institutional website, landing pages are important to increase the profitability of investments in online advertising.
The key to success is to offer users who click on an ad a landing page that is visually appealing, that has the brand's value proposition, with fair and accurate information.
For example, we may promote service announcements and have interested visitors fill out the form on the page to learn more.
We develop your landing page
Agencia Mejor Digital is made up of a team of professionals in digital marketing, advertising, graphic design and web design.
We take into account the importance of an effective strategy to enhance the digital presence of your brand, therefore, we propose our Landing Page and Google Advertising Pack .
We offer the best services exclusively designed to obtain successful search results: generation of quality contacts, focused on sales and commercial objectives.
Get & nbsp; contact & nbsp; with us to start working in the digital presence of your brand!
Mejor Digital >> Marketing & Design
Agencia Mejor Digital
Instagram
Facebook
YouTube
Behance
More on Digital Marketing